It's a longdrink! The recipe is still subject to disputes but one thing is sure: it contains Gin and Orangina.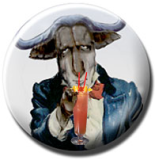 Here is the first submission:
4 units Orangina,
2 units Gin,
1 unit Maracuja Mango juice (you may have to mix your own)
a dash or two of Angostura
Serve chilled on ice in a longdrink glass. Enjoy!
And this is the second submission:
4 cl Gin,
2 cl Pernot or another Pastis,
2 cl Peach Tree (or other liquor),
half a lime, cut into pieces including skin,
fill up with Orangina Rouge,
Serve chilled with ice in a longdrink glass. Enjoy!